James Zsamboki Koo Self Defense
I was born in Chicago, IL and raised in Kennesaw, Georgia. I moved to Bartow County in 1999. I attend Cass High School as a Junior.
I always wanted to learn a martial art for fitness and self defense. A friend told me about Master Roger Koo's studio in downtown Cartersville. I joined his studio on August 15, 2000 at the age of 16. I have been training for 17 months and has so far (April 5, 2002) done 258 classes.
Over that period of time, I have developed tremendous stamina, fitness, flexibility and power. Moreover, Koo Self Defense training has given me more self control, self confidence, self discipline, self esteem and better manners.
I exercise regularly in order to improve my martial arts skill. My goal is to earn my black belt and to one day become a Master in Koo Self Defense.
VIDEO CLIPS Taken April 2002. Started training at Master Koo's studio, Downtown Cartersville, Georgia, USA on August 15, 2000 and has done 261 classes to the day of photos and video clips.
Power Drill Class - Kicks
Power Drill Class - "Spaghetti - Free Choice"
Bearking 5 Pleastic rebreakable boards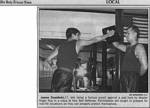 I appeard with Master Roger Koo in 'The Daily Tribune Newspaper' on Friday, July 19, 2002
View My Guestbook
Sign My Guestbook
[ Home ] [ Photo Album ] [ Koo Self Defense International ]